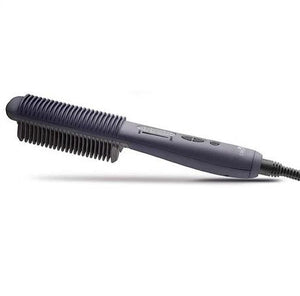 Features:
• Auto shut-off
• 360° swivel cord
• Rapid heating time
• Digital LCD display
• Nylon-tipped bristles
• Adjustable temperature
• Negative-ion technology
• Consistent temperature-level maintenance
• Ceramic plate protects hair cuticles from damage
• Far infrared heat seals in hair's cuticles and locks in color and  Its perfectly improved shape allows you to straighten AND curl
Steps for using the Glider:
• Brush your hair with a regular brush.
• Turn on the Sapphire Glider and adjust to desired temperature.
• Brush your hair with the Sapphire Glider from the inside out, at a slow enough pace to see steam.
• Enjoy your beautiful hair!